Let's say you have an unrivalled passion for books and reading – and can read everything under the sun. You can either keep reading like that… or turn your passion into a little sidebusiness, which is what the bookstagrammers do! We all know who bookstagrammers are – booklovers who share valuable book content for readers to explore!
There are many bookstagrammers online who provide some of the best bookish content you'll ever see. It, therefore, becomes a challenge to find the content you can vibe with, something that fits your preferences the best. To tackle that, here's a list of popular bookstagrammers who regularly upload the most unique content on books. They have it all – funny reels, bookart, aesthetic charm, snippets of personal life and book recommendations, duh!
James Trevino& Elizabeth Sagan:
If you check out the #bookstagrammers on Instagram, there are hardly any men in the sea of women bookstagrammers. But James Trevino still stands out in this sea with his library-turned-art content, relatable reels and colourful photos. Joining in his book adventures is his best friend, Elizabeth Sagan, who clearly has a different style than his yet is equally appealing. Together, they make the most beautiful content – book dominos, scenes from books… with books, and many more. They also run a page called Bookstagram Feature Account where book-lovers can find out fellow readers!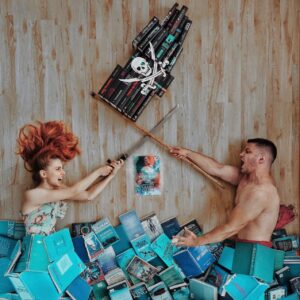 Both the bookstagrammers have a stunning followercount – Trevino with a whooping 293K and Elizabeth having 200K. Even their page has over 240K followers. Talk about (bookish) influence!
Instagram handles: @james_trevino & @elizabeth_sagan
Laura (whatshotblog):
Bringing together the adventure of travel with the peace of reading is this amazing bookstagrammer, Laura. She is an award-winning blogger, successfully runningwhatshotblog.com, where you get to read content related to travel and books. The blog was launched in 2011 – unbelievably, it was actually a fashion blog at the start – and then slowly panned out to Instagram. Her Instagram has more than 65K followers, who get to see an aesthetic mesh of travel reels and posts of YA, general fiction and thriller novels.
If you love travelling and consider yourself a huge bookworm, you know who to follow slashget your recommendations from!
Instagram handle: @whatshotblog
Blog: www.whatshotblog.com
Tanbir Kaur (coffeeandbookss):
Tanbir Kaur gives you the softest, a little vintage aesthetic on her Bookstagram, coffeeandbookss. Her posts range from being in her room, on the bed, by her shelves to sitting in a park, walking down a street or even in cafés. The link between these posts? Yes, you guessed right – there's always a book in those pictures! The captions feature reviews, book lists and recommendations you'd never go wrong with.
Her page also contains little snippets of her life, which are equally lovely. Stories of her dog, places she has been, favourite movies and TV series, food and much more. Click on the link in her bio, and you'll be taken to her YouTube channel! It may be inactive now, but you can enjoy the handful of book videos she has uploaded in the meantime.
Great photos, even greater aesthetics and impressive book content. Who's doing it like coffeeandbookss?
Instagram handle: @coffeeandbookss
Kathleen Crowley (clumsy.words):
With a whopping 100K follower list on Instagram, Kathleen Crowley has a pretty exciting bookfeed. As opposed to the others trying to add perfection to their lives and social media, Kathleen lets her feed be as whimsical and stacked as possible!
Most of her posts show her carrying around a stack of books in every way possible. Holding them in her arms, putting them on the table, arranging them in a tote bag – and so on. As clumsy as the books appear, her recommendations are way sturdier! You can also enjoy her vocabulary 'lessons' and late-night poetryfrom her stories. In fact, just check the highlights of her profile, where even better gems are hidden. Interestingly, she also has developed a sticker pack for iOS featuring tasteful puns of famous literary figures. Lucky iOS users!
And while you're there, don't forget to check out her pottery account, @clumsy.stuff. That page has some real beautiful stuff on it!
Instagram handle: @clumsy.words
Haley Hye-Eun Lim (mylittlebooktique):
Haley takes the meaning of aesthetic Instagram feed to another level! A mother, a coffee lover and a traveller, you'd think Haley won't have any time to pick up a book, let alone read one. But she proves that wrong – and her content is proof of her dedication to books. Most of her collection comprises classic books – some Korean titles as well – but Haley's been catching up with the HP series these days. Check out her books highlight to gether even a more detailed opinion on the books she has read!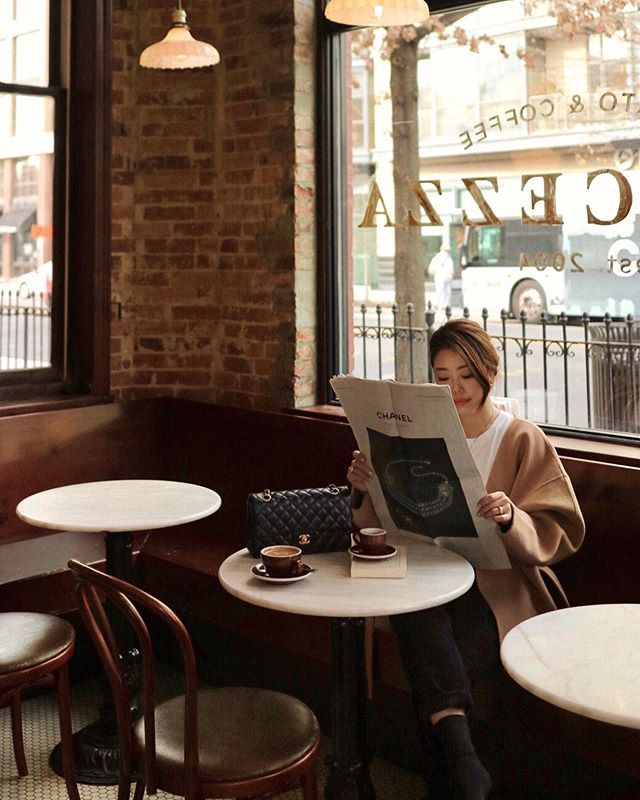 Haley's feed is all about minimalism; you can see it not only in her posts but also in her highlights. It's the clean, no-nonsense content of the books, her travel adventures and interesting pieces of her life that make her account so easy to love. And her 111K followers will agree!
Instagram handle: @mylittlebooktique
Amy Buckle (amysbookshelf):
If you search the name Amy on Instagram, Amy's Bookshelf always appears in the top 5results. And that's telling enough! Amy's account – with over 100K followers – showcases reviews, book reels and recommendations. There are no heavy aesthetic vibes, but her account has that homely, comforting feeling that'll lure you right in.
Her book content is as lovely as it is insightful – but the real gems are hidden on her blog! Amy's blog is just an extended version of her Bookstagram, where you can read the complete reviews. Well, those are definitely the highlight; not only are they short and honest, but there are also no spoilers in them.
If you explore the Bookstagram, you'll see Amy's focus is more on old classics, romances, fiction, mystery, thriller and sci-fi.If these genres are your jam, Amy's Bookshelf is the one for you.
Instagram handle: @amysbookshelf
Blog: www.amysbookshelf.co.uk
Triin (wordchild):
Stacks and stacks and some more stacks of booksare what define Triin's colourful Bookstagram!Triin has been on the scene since late 2013when the trend of Bookstagram was barely starting. Her account, just like the trend, aged like fine wine – and what we see now is a vibrant amalgamation of her years of reading, reviewing and recommending books.
Sift through her highlights, and you'll find the loveliest collection of quotes, pictures and videos of her pets, her travel, and her children, as well as her home library, book polls, collaborations, book collections and a lot more. Triin has made the most use of the Guides feature; you can check out posts about her books, bookshops, authors and FAQs all in one place.Once you check her account, you'll never leave. Why? Because Triin knows how to bookstagram the right way!
Instagram handle: @wordchild
Gone are the days when you'd have to rely on someone's opinions or read the book yourself to know whether you'll like it. This task is made all the easier by Bookstagrammers. It doesn't matter if you're just a reader seeking recommendations or wishing to open your own Bookstagram; this curated list will definitely guide you in the right direction.
Bookstagram
,
coffeeandbookss
,
slashget
,
whatshotblog