John Grisham was born on 8 February 1955 in Jonesboro, Arkansas. His father was a construction worker, and his mother was a homemaker. In his childhood days, the author always dreamt of becoming a baseball player. However, after analyzing that he is not a perfect fit to become a pro player in the sport, he started shifting his interest from sports towards accounting and hence did a major in accounting at Mississippi State University.
Grisham is one of the most versatile personalities as he held an interest in multiple areas like sports, accounting, and ultimately writing.
John Grisham began writing his first novel in the late 1980s, along with a busy day job as a lawyer and a couple of young kids at home.
For the next three subsequent years, Grisham woke up at about 5 am writing about a book that eventually became the bestselling novel, 'A Time to Kill.' The book was published after being rejected by almost 40 different publishers.
Since then, Grisham followed the pattern of writing one novel a year.
Indeed, the pattern for writing was quite transparent. If you wish to pursue your passion as a full-time job, at any point in time, then do practice your art, giving it a bit of time each day. Ultimately, don't give up.
Therefore, let us talk about some of the bestsellers of John Grisham, the written aspects of each book, and the reviews of the audience about the same.
1. The Client
The Client was one of the bestselling books from the shelf of John Grisham. The book's unique aspect is that John wrote it for the adult audience, yet it became highly popular among teenage readers.
The book was even awarded several teen book awards.
The novel follows a young boy who was caught in a war between the mob and the law. It discusses Mark's story, who was stuck between a legal system and a mob killer who was desperate to cover up all his crimes.
It even covers up Reggie Love, who was the lawyer for about four years. The prosecutors were trying hard to break all the rules to make Mark talk. However, the mob would surely stop at nothing to keep them silent
On the other hand, Reggie was ready to do anything to save her Client – even taking up the last gamble, resulting in Mark's freedom or could even cost them both their lives.
Indeed, the novel covers up human aspects and hence is one of the most engrossing, beautiful, and witty tales of human bonding.
Audience Reviews:
With plenty of surprises and twists, the story goes on.
An imaginative story like a masterpiece.
Tremendous story.
2. A Time of Mercy.
Another famous novel of all the time is 'A time to Mercy.' This novel holds a leading character and the hero of "A Time to Kill" – Jake Brigance.
In this novel, John Grisham's classic thriller is being highlighted. At this point, it came as the epicenter of a sensational murder trial which keeps the citizens of Clanton, Mississippi, apart from each other.
The novel 'A Time to Kill' is widely known or read novels of all time. Jack is the classic American hero – being a lawyer who looks for justice and truth at all costs.

Audience Reviews
A gripping account of social habits and prejudices of the rural country in Mississippi.
A great addition to the Ford country universe by a master at his craft.
Offers insights about several legal aspects.
3. The Innocent Man.
Here's John Grisham's initial work of nonfiction. The novel is based on true crime capable of shooking up anyone who stands as the believer of presumption related to innocence.
The novel comes across the accused's past life and how Ron Williamson and his fellow friend get stuck in a murder case.
With faultless research and an eleventh-hour drama, The Innocent Man is like a page-turning legal thriller. Americans cannot miss such type of nonfiction.
There's specific praise specifically crafted for innocent Man. It highlights how false friction destroys the beautiful creation of the almighty.
"Grisham has curated a legal thriller with every bit as fast-paced and suspenseful making it all the bestseller fiction."

Audience Reviews:
Americans find it unbelievable and superb at the same time.
Gripping storyline.
Sounds thrilling than any other friction novel.
4. Camino island
The Camino island is yet another mystery novel by the best-selling author named John Grisham. Grisham, which comes from the world of literature, rare books, and famous authors that all against the background of a Florida island, is one of the most thrilling stories.
It is a compact novel that takes an individual through the murky world of dealing in rare books. Though it is a departure from the normal Grimsham's "legal" thriller, yet it packs a hole punch.
Grisham's witty writing makes this novel a page of Turner. He never fails to entertain the audience.

Audience Reviews:
According to the readers, the storyline is simple as well as intriguing at the same time.
One can easily fall in love with the place as well as the characters where the whole plot is created.
With offbeat crime, there's a lot of additional spices thrown in.
5. The Pelican Brief
The Pelican Brief is a legal suspense thriller novel curated and written by the bestselling author John Grisham.
Though John Grisham usually holds writing in the storyline of some legal stuff. However, this is not like any of them. There are a few aspects regarding politicians, journalists, and contract killers. This is an excellent old-fashioned thriller about greed and corruption, power and money, Daniel versus Goliath, and good versus evil.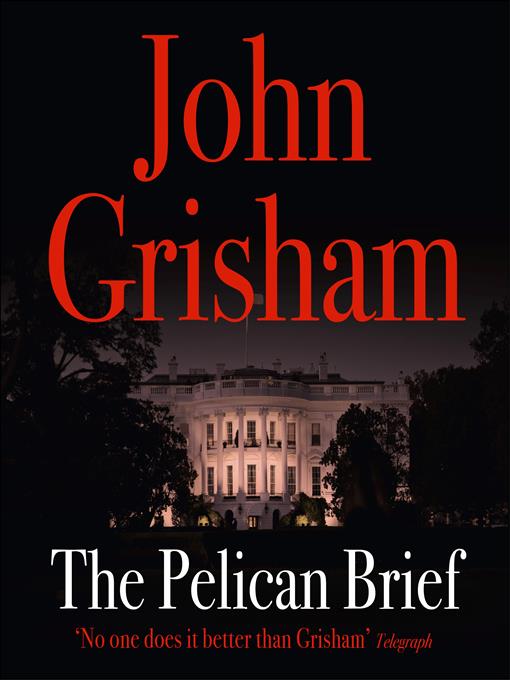 The Pelican Brief is absolutely one of the best novels, especially for Hollywood lovers. This is highly recommended for those looking for something which is not heavy going and is still a good read.
Audience Reviews:
The undisrupted masterpiece from the great John Grisham.
Another riveting and Gripping story
An especially loved character is Darby Shaw and her adventures.
Conclusion
As John Grisham is one who deals with frictional as well as non-fictional writing, one can grab immense knowledge about different aspects of society.
A Time of Mercy.
,
Camino island
,
The Client
,
The Innocent Man.
,
The Pelican Brief