An Interview with Manali Desai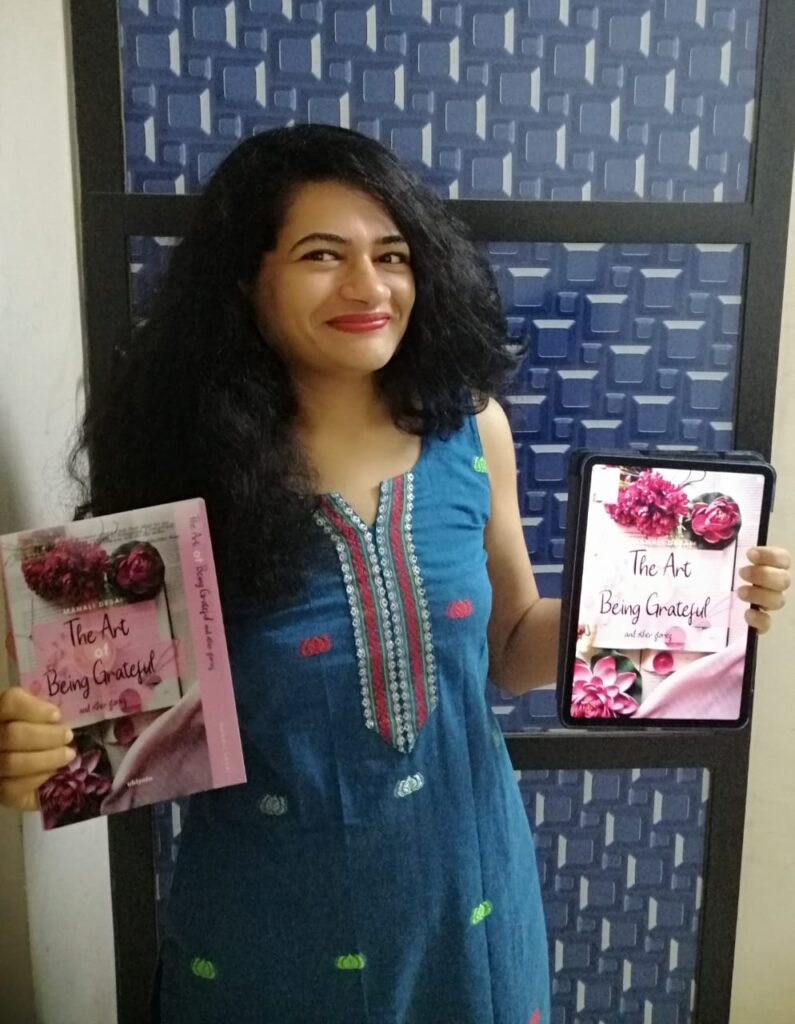 Booked4Books became a platform for the Digital launch of Manali's Latest Book, 'The Art of Being Grateful' in the month of July. Now, with the launch of the Paperback version, she gives us a detail about her book and peeks into her exciting journey.
B4B:- For those who don't know could you start by telling us a little bit about your latest book The Art of Being Grateful & Other Stories? 
Manali:  So, my latest book The Art of Being Grateful & Other Stories is a collection of 8 short stories (flash fiction rather). These are a mixed bag of all genres like horror, thriller, romance, a slice of life, etc.
The book has been getting great reviews so far and has been liked and appreciated by people of all ages (including you 😉)
At just 49 INR and consisting of 63 pages, it's a quick read at a very reasonable price proving the 'less is more' mantra of the millennials.
B4B: How is it different from your other two books The Untold Stories and A Rustic Mind?
Manali: My first two books were completely different in the genre because A Rustic Mind is a collection of poems and The Untold Stories is a collection of micro tales.
Yes, but the thing common between them all is they cover various genres in one book: as in they're all the 'complete package deal' (much like me 😎)
B4B: How do you come up with a book title?
Manali: There's no magic trick to it. For my first book, I knew it already because my pen name A Rustic Mind was already out there and known.
For my second book, I took up the opinions of a few close friends who had read the first draft and were part of the entire process. One of my friends suggested 'Ankahikahaniyaan' after reading the first thirty or so micro tales from the book and that's what I started sending out the book proposal with, calling my book 'The Untold Stories' which was a literal translation of AnkahiKahaniyaan.
In fact, a few choices were provided by the publisher too, once everything was in place. But, out of all options, The Untold Stories seemed to fit best so I stuck with it.
For my third and recent book, the title came after the final selection of the book cover. You see, the book is a collection of eight short stories and I always knew the title will be one of the stories from the book. Once, we had finalized the book cover, the title came The Art of Being Grateful & Other Stories.
B4B: Your very first story from the book 'Warned in Love' is a thriller that left the readers at a curious end. Would you like to take that story further? 
Manali: To my honest and utter surprise, that story has been one of the most well-received stories in TAoBG and I have had my DMs flooding with requests to know what exactly happened in the story. Now, there's a kind of pressure on me to take the story further and I don't want to give false hopes and get ahead of myself here, but hopefully, soon, YES! there will be something to take the story further or add to it.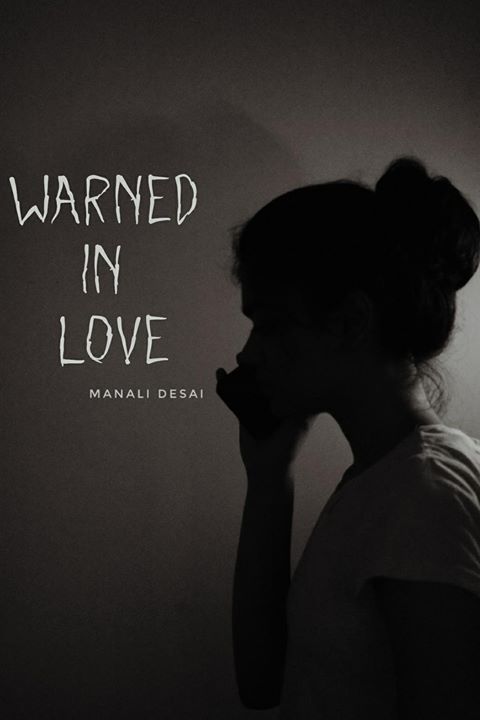 B4B: Your book has many different Characters which one is closest to you? 
Manali: Maanvi from 'Self Happiness Above All' is a character I relate to the most. Like her, I used to be someone who was constantly worried about 'log kyakahenge'.
Other than that, I love Sumit's character from 'No Witnesses' too. The kind of grey shades he has, it's hard not to feel empathy for him. He loves Abhay, his son, but there are so many layers to his love that one needs to understand why Sumit feels the way he does.
B4B: Which one is your personal favorite story from the book and why? 
Manali: My personal favorite is Love in The Air because it's not just about Prerna's first-ever solo trip. One has to understand that the solo trip is a metaphor for her coming of age and overcoming so many internal as well as external challenges.
Also, it was so challenging to maintain a gender-neutral dialogue throughout the story, which I enjoyed writing!!
B4B: What are the things that you feel, you are grateful for in life? 
Manali: In the current world crisis that we are all living in, I'm only grateful for three things
Having a roof over my head.

Being able to have four square meals per day, without much physical or mental stress.

Being able to earn a livelihood by doing something I like.
B4B: Your latest book is about short stories was there anything that took you by surprise? 
Manali: You mean while writing or after the book was out?
Well, I am going to answer it both ways. While writing it, what took me by surprise was how I enjoyed the challenge of exploring new genres like horror, LGBTQ, and thriller. I had never written these genres and I quite loved trying these out.
After the book was out, what took me by surprise was the overwhelming response to the stories, especially to 'Warned in Love' (one of the stories from the book). I never expected readers to enjoy this story the most but hey! No complaints because I am enjoying the appreciation all the way!
B4B: Have you always wanted to be a writer? 
Manali: Professionally, what I wanted to do, remained a big question mark till the time I was 27. I dabbled in various professions like being a Marketing Executive, a teacher a content writer, etc.
Though these jobs were varied, the writing was the one common thread between them all as all three of these had some of the other writing tasks involved.
So, no I did not always want to be a writer, but it became my calling, even though quite late in life. However, it was always a hobby. I used to write poetry and maintain a diary right from when I was a teenager. But never thought of turning this into a profession till the time I realized that it was actually something that could help me earn money and that it was the only thing that would give me true work satisfaction.
B4B: What inspires you to write? 
Manali: Life experiences and everyday incidents, the stories of people I come across or hear about; these are my biggest inspirations.
The world is so full of stories waiting to be shared that I feel inspired to write about everything, be it small or big.
B4B: Do you judge a book based on its cover?
Manali: It's a lie when people say they don't do that. It's actually like one of those lies which everyone knows about, but nobody admits to doing it. I have no qualms about admitting it though. My judgment or buying decision for a book is a three-step process:
Look at the cover

Look at the blurb
III.              Look at the reviews
This process however is for those books which I haven't already been recommended or heard/read about.
B4B: What was the best money you ever spent as a writer?
Manali:
Monetizing my blog.

Every piece of reading I pay for (be it books, newspapers, magazine subscriptions, anything that helps me know and learn more about writing)
B4B: Do you believe that movies can be inspired by our real lives too? 
Manali: Oh yes! They most definitely can be. And why not?  Someone has rightly said that entertainment is a reflection of our society.
There are people who criticize or judge us, how do you keep your self-happiness above that?
There are two rules that I go by on the professional front.
Does the work I do satisfy me?

Does the work I do fetch me money?
If the answer to both these questions is in the affirmative, I don't really bother much about anything else. And that's how I am able to keep self-happiness above all and ignore those who judge and (wrongly) criticize my work. I used the word 'wrongly' here because I'm all in for constructive criticism which would help me grow professionally.
B4B: Why did you decide to get your book out in paperback?
Manali: A lot of people in my network and through social media platforms, contacted me after reading the reviews inquiring about the paperback version and then when I said it's only available as an eBook currently, they would say, "That's sad. I only read paperbacks' or 'Let me know when it comes in print and I'm definitely read it'. This made me realize that my book was not reaching quite a few readers just because of this simple limitation. Hence, the decision to bring out the paperback.
B4B: Do you also indulge in the idea of reading a book from paperback provides ecstasy?
Manali: Honestly, I used to be that kind of a reader who only reads paperbacks, but seeing the ease and convenience that comes along with eBooks, I've now made my peace with both print and digital versions of reading all and any books.
B4B: How is paperback different from Kindle?
Manali: The only difference I see is the look and feel of it. Other than that, it doesn't matter to me anymore.
Talking about my book The Art of Being Grateful & Other Stories, the major differences between the kindle and the paperback versions are these
-Currently, A LIMITED EDITION CARRYING MY DIGITAL SIGNATURE IS AVAILABLE (only the first 100 copies will carry this signature)
– It has a foreword by the popular and bestselling author of multiple books, Kevin Missal.
– It has words of praise by many known authors, including a few lines on the book cover itself, by popular author, Ajitabha Bose
– Some of the story covers inside the book have been updated.
B4B: What are your views on audiobooks? Would you like to try for your book?
Manali: I'm yet to explore that bit, both as a reader and a writer. But yes, I'm keeping my mind open to explore the option of converting my books into audiobooks.
B4B: What is the cost of the book in paperback?
Manali: The book is priced at 150 INR in paperback.
B4B: Have you picked your next project?
Manali: Yes, I actually have. My next book is going to be a nonfiction book covering the life stories of 50 inspiring women who have broken many barriers to making a name for themselves in their respective fields of work.
B4B: Any parting words or advice for the readers. 
Manali: Focus on the little things that bring you happiness, that's where your calling is. And, read as much as you can.
Also, if you've read till here, please do check out my books on Amazon.
Free Book (Kindle)
Available from 14th- 16th December 2020.
https://www.amazon.in/dp/B08CVTTGZ2/
Also Avail 20% Discount on Paperback till December 31, 2020
https://www.ukiyotoindia.com/product-page/the-art-of-being-grateful-other-stories
Manali Desai
,
The Art of Being Grateful
,
The Art of Being Grateful & Other Stories
,
Warned in Love