We're pretty sure that we all have seen the movie 'Dil Bechara' by our late actor Sushant Singh Rajput. We're confident that 90% of our viewers must have already known that the film was based on the book 'Fault in our stars.' This was a popular movie, so many of us know about this, but what about the others? So our team decided to present five such films that our Janata might not know that they are based on a book!
Before we begin, one of the questions that everybody has in mind is: What is better, a book or a movie? We do not want to give an unbiased answer, so we will present both sides' perks and leave the judgment up to you.
Books are better because they explain the emotion in much detail compared to the movie; they give you a picture of what is going on in the scene and what different players are thinking about it. However, a film takes only two hours to complete compared to a book that might take 7 to 8 hours for you to read. Now it's up to you what you choose: a book or a movie.
Lootera based on The Last Leaf
The Last Leaf is a short story written by O Henry in 1907. If you are a CBSE student, you might have read this story in your class 9 English textbook named The Last Leaf. If you are not, don't worry; we are here for you. The plot is set in Greenwich Village during the pneumonia epidemic. The main protagonist, a young girl, was suffering from pneumonia and had lost all the hopes of recovering again. There was an Ivy plant creeping on a wall just right outside the window. She made up her mind that she would die by the last leaf fall of the tree. However, this doesn't happen as one of her neighbors who is an excellent painter drew the whole ivy plant in the night while she was asleep, and there was no leaf to fall. She started recovering from pneumonia again, seeing the leaf. However, by the time she got well and came to know about the whole story, her neighbor died because he spent all his nights in the cold outside.
Omkara based on Othello
Othello is a tragedy play written by William Shakespeare. Here we have two main protagonists Othello and Iago. On one hand, Othello is a military leader and has married a charming veteran girl Desdemona against her father's wishes. On the other side, Iago envies his master's wealth. The central theme of the story is a person's suspicion. Personal suspicion can destroy every inch of his beautiful life. The same happened in our account at the end of the local sources with the wife because he had a suspicion that she was in a relationship with Iago, which was not valid. The play is beautifully written and explains life's core meanings in a simple yet exquisite writing style.
Omkara is a quirky Bollywood version of this play and has surprisingly done good justice to the plotline.
7 Khoon Maaf based on Sussana's Seven husband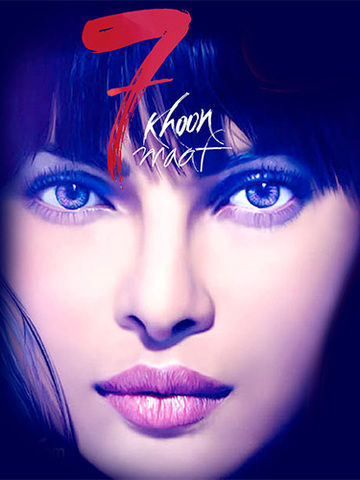 Susanna's seven husbands is a short thrilling story written by Ruskin bond. The famous filmmaker Vishal Bharadwaj got inspired by this book so much that he asked Ruskin Bond to write a screenplay for the movie 7 Khoon Maaf. The story is about a girl who is considered a curse. People used to call her by the name of a Blackwidow. But why? Because every single time she married a rich older man, he would die soon after the marriage. This saga continued till the 6th marriage. However, the seventh marriage brings new hope to Susanna's life. To find out what happened to the seventh one, you need to read the book or in this case, watch the movie. The book and the movie are equally thrilling and captivating, with the enchanting songs and music works by renowned Indian artists.
(Here's a sneak peek into the story, the seven husbands of Sussana are the seven cardinal sins!)
The White Tiger is based on Aravind Adiga's book.
The white tiger is a debut novel written by Aravind Adiga. The book won the 40th Man Booker prize in 2008. The story is about a complicated man Balram Halwai and how he succeeded in his life using his intelligence, knowledge, and wisdom. The story began when Balram Halwai got a job as a driver. The frog is shifted from a well to a pond, and now he sees a bigger, better world in front of him. But soon, he loses his way in the lust of the new world; he even forgets the wickedness that comes with it. The novel talks about a lot of things, including the Caste system, prostitutes, call centers, gender inequality, poverty, corruption, culture, worshippers, and Loyalty.
This book is all set to be released out in the movie form that goes by the same name!
Aisha based on Emma
After writing the classic novel Pride and Prejudice in 1813, Jane Austen wrote her next novel Emma, which got published in 1815. This is a romantic novel based on misunderstandings in a relationship. The central topic that covers the whole book depicts issues like marriage, age, social status, and sex. The movie's main protagonist was Emma Woodhouse, a very clever, rich, spoiled, strong lady. She lived twenty-one years of her life without single trouble, but now the story is going to take new turns.
She was very fond of Match-making, and in her childishness, she pushed two people, Mr. Elton and Harriet Smith, towards marriage. Although they were two completely different people, Harriet Smith was in love with another person, and Mr. Elton fell in love with Emma. However, the story takes a vicious turn after Emma unfolds the complete truth in front of Mr. Elton. To know more, you need to watch the movie or read the book.
This was the movie list adapted out of books that we thought you must know about! We hope you enjoyed reading it.
Let us know what do you think, and if you've watched the movies and read the books, let us know if they've done justice to the books!