Everyone – or at least every reader – knows what a book review is. Simply speaking, it is a descriptive analysis where the reviewer reads a book and gives their opinions on the story. But there's a lot of difference between the reviews of earlier centuries and the ones we see today. 
The reviews that were done before usually consisted of the story's summary and a general overview of the themes and issues tackled. A little passage by the end lets the readers know whether reading the book is worth their time, with the observation purely based on the narrative's value.
And yet, the art of reviewing a book has evolved over the years. Nowadays, anyone can write a book review, as opposed to the old times with professional reviewers. Naturally, the rules have been tweaked as well. If you want to hop on this bandwagon, all you have to do is read the book, think of why you liked (or hated) it – and write it!
Before writing a Book Review
As a reviewer, there are a few things you need to keep in mind before writing. These pointers may seem intimidating at first, but if you want to write a serious review, these will surely come in handy.
Read

: Nothing can tell you about the book's contents than the manuscript itself. Even if you decide to base your review on the summaries online, it won't be enough. That being said, ensure you read the entire book and understand the author's motive in publishing it. While reading the novel, you can make notes, record your reactions, and jot down your own theories.

Research

: A good reviewer usually researches the book. This doesn't mean other reviews, but the book's genre and the themes used. Once you have a general idea about it, you can use that information to see if the book gives proper justice to its genre, themes and other elements. 

Observe

: Without intending to, the authors of the same genre write down similar stories. The characters may be different, and the conflict too, but the story feels the same. So, when reading the novel, ensure you can pinpoint what the book brings to the literary world. Does the explored trope feel new? Is the end satisfying? Is the author's writing style fresh? The answer to these – and many other – questions will help you decide the book's uniqueness.
Steps to write a Book Review
The steps of writing a book review are not many. But what they teach you is how to proceed with your review. The content you fill in will be whatever you want to add – and in your own writing style.
Note down the summary: 
Before you start with any book review, it is imperative to write its summary. There will be people who won't read that book and are dependent on your review. If you dive headfirst into reviewing, chances are your review will be skipped in a second. To write a good summary, make sure it reveals a little less than the novel and much more than the blurb. It should provide the genre, the main characters and the book's conflict. But be careful that no twists or spoilers are mentioned, let alone hinted at.
Writing your evaluation is probably the tricky part of any review. Unlike the reviews you see on Goodreads, the analysis part is more than just penning down your raw thoughts. You have to critique the story subjectively and objectively – preferably with examples. 
The personal touch is putting in your reactions to the narrative. You can do that by pulling at the prose's strings, comparing it with the other similar books you have read, or pointing out things you absolutely hated or loved – but in a polite manner. For example, if you're reading a genre you dislike, you should still be able to put your feelings aside and write about the elements you still like. A well-rounded review lets the readers see your own opinion without affecting them that much.
Give your honest recommendation:
This is the section where you decide if you want to recommend this book to people. That doesn't mean you should write I recommend this or Don't read this. Instead, you can elaborate by appealing to readers who love books of similar narratives. And vice versa. Or if you want to say you don't recommend it, you can talk about the favourable points before moving on to the apparent cons you pinpointed. 
It is up to the readers whether to read the book or not – your reaction would tip the scale for them. But your words should never be heavy and forceful; you're not forcing them to accept your opinion. It's just a recommendation!
Here are some more tips…
Just as authors aren't made in a day, book reviews aren't written in a day. Don't be hasty while writing a review. Ideally, one to two weeks of writing time – immediately after reading the book – is enough. You can, therefore, take a little more than a week to pen it down.

Many reviewers love to give ratings. These can be number-based (for example, 4/5) or star-based. Websites like Goodreads allow you a rating section with five stars, where you can choose your star accordingly. 

There is no word limit to a book. But keep in mind that the readers only look for a short passage with the book's essential details. So, a review usually ranges from 500 – 800 words, but it can be longer or shorter – whatever you want. 

Don't let your opinions wash away after looking at the general reaction to the book. For example, if everyone seems optimistic about the book and you find it tedious, say so. It is inadvisable to jump on the bandwagon; state your side clearly, and with proper explanations.

There will always be readers who will never agree with you. And that is okay! As long as you give honest book reviews, pen down everything carefully and give enough book references, it will be enough. So, don't get discouraged – and write more reviews!
Sites to publish your book reviews
Your blog: The best place to publish your reviews is your own blog. You can upload and organize your reviews on your own – and make your own decisions. Popular reviewers these days put pieces of their reviews on other sites before directing the readers to their blog for the entire work. It's a great way to generate readership on your own.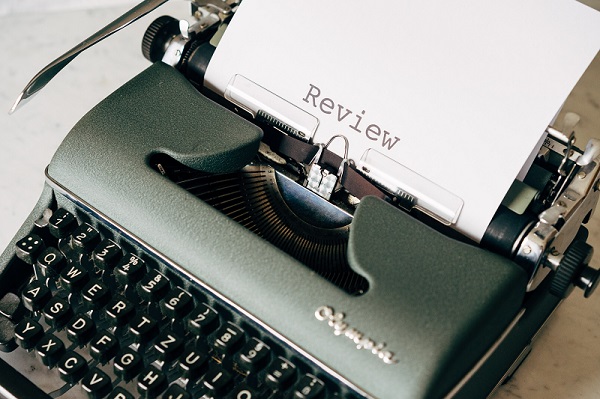 Goodreads: Most readers and writers refer to Goodreads before buying or reading a new book. Chances are, if you write a kickass review, it will be seen by people around the world! You can post your entire review. Or, as mentioned above, put parts of it to link them to your blog. You can explore many other features, such as ratings, community and comments!
LibraryThing: LibraryThing is a platform that acts like a virtual book club. With your free account, you can add books to your virtual library, rate the books, and leave a review. The tabs at the end show basic information about the said book, including the author's name, release date, as well as character names, important places and awards. You can post your review in English or any other language you want.
Instagram: Instagram has recently proved to be a great platform for book lovers! With the gradual surge of #Bookstagrammers, bloggers and reviewers have found an easy way to make people see their reviews. You can post your review in the caption or just make creatives to upload as an Instagram post. Sooner rather than later, people will discover your little book reviews corner on this popular social media platform!
Unlike the write-down-my-thoughts-with-no-filter way, writing a proper book review is nothing less than an artwork. You must be passionate and dedicated to even consider reviewing a book. But if you keep reviewing – and improving your skills gradually – you will definitely be hailed as an esteemed book reviewer. Doesn't that sound amazing?